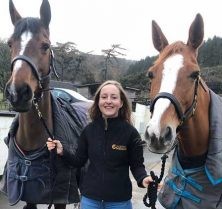 Finding what you are looking for
Ardeo Sport Horses offers a unique and personalized service, successfully matching the right horses with the right riders. We search the country looking for horses, spending time at shows and events both at home and abroad. We also have built up an exclusive network of contacts with both breeders and producers.
Discuss your requirements
If we do not have what you are looking for in our stable we will definitely have an idea of where to find it for you. Contact us because we can help you with your search.
Confidence in your purchase
We have many success stories to date. Matchmaking is an elite skill Ardeo has developed over the years from selling horses and coaching riders. By evaluating our clients riding we can source types and models of horse that would best suit the riders ability, thus ensuring a compatible match.
Organising the logistics
We can help you organise the whole process from start to finish including transport, accommodation, viewings and trials, vetting's and horse transport to anywhere across the globe